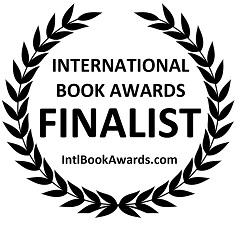 Award-Winning Finalist in the 2014 International Book Awards!
Truly a masterpiece! – Lucy O'Dea, Snow Leopard Conservancy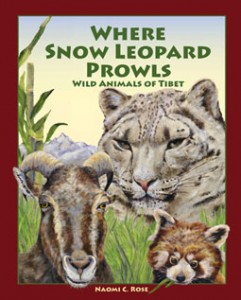 Where Snow Leopard Prowls: Wild Animals of Tibet is a captivating book on the amazing animals of Tibet and the stunning Tibetan Plateau. Luminous paintings, fascinating facts, and engaging activities will delight and inspire readers of all ages. Best of all, this book fosters a personal connection to wildlife, the natural world, and Mother Earth. The book also includes a glossary and suggested activities.
The art is beautiful! – Brad Rutherford, Snow Leopard Trust
A nice mix of factual and storytelling information that keeps it interesting.
– Nancy C. Hawkes, PhD, General Curator Woodland Park Zoo
Details
Written and Illustrated by Naomi C. Rose

Hardcover, 32 pp, 8.5 " x 11″
ISBN: 978-0-9836333-0-3
Dancing Dakini Press, Fall 2013

Ages 4 and up
Free Where Snow Leopard Prowls Activity Book!
Enjoy Tibetan wildlife puzzles, word games, and other fun activities!
For ages 4 and up.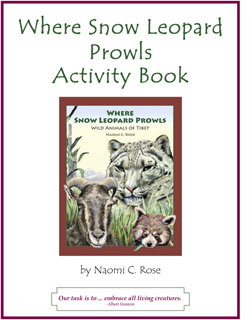 Review Highlights
Midwest Book Review
Strikingly realistic paintings illustrate Where Snow Leopard Prowls: Wild Animals of Tibet, a children's picturebook filled with amazing facts about Tibet's native species. One or two pages and a brief amount of text is devoted to each of several extraordinary creatures of the Tibetan plateau: the snow leopard, Tibetan wolf, wild yak, Himalayan tahr (a wild goat), golden snub-nosed monkey, black-necked crane, and more. The last few pages offer some simple activities kids can undertake (such as "write a poem about your favorite animal"), a brief glossary of words to know, and more.
Highly recommended for public and school library collections, as well as gift-giving for young animal lovers!
School Library Journal
This brightly colored peek into the magnificent Tibetan Plateau…should spark the interest of any animal lover. It includes rarely seen images of the Moon Bear, Kiang, Chiru, and Himalayan Tahr. The text includes details about protecting this fragile habitat and engaging information about how the denizens live and survive with each other in their harsh home.
Animal Equality for a Peaceful World
It is a beautiful and very informative piece of work. It will help build the relationship of children with nature and it is a great way to show kids the animals and their environment in a little known (to most) region of the world. This is especially important in today's age when not even such distant wildlife habitats are safe from the actions of our human species. Teaching our children love and respect for nature might prove crucial for the future of our unique planet and all the life forms on it, including us humans. So if you want to entertain your kids, and at the same time teach them something about the fascinating wildlife from the "roof of the world," this is the book for you!
BookWork Lisa Book Blog
Where the Snow Leopard Prowls teaches children about the animals that live in Tibet. Naomi Rose has wonderful illustrations showing the climate and features of each animal. She describes the terrain that the animals live in, and the features they have that make it so they can live in the environment.
At the end of the book she has listed interesting facts about Tibet and a little of the culture. She also has creative activities for kids to help them understand and retain the information they just learned.
I think this is a great resource for young children to learn a little about several animals. They pictures will hold a child's attention and teach as well as the words.
The Musings of a Book Addict
I am familiar with this author as I once reviewed her book Tashi and the Tibetan Flower Cure. She has done an excellent job with this book, once again bringing us to and teaching us about her love of Tibet.
This was a beautiful book. The reader is introduced to thirteen Tibetan animals and their habitats. I had no idea until I had read this book that there were so many habitats in Tibet. I had only heard of two of these animals before reading this book. The author has done a wonderful job of describing the food and preditors, camouflage and escape methods of the Snow Leopard, Tibetan Wolf, Wild Yak, Tibetan Black Bear, Kiang, Blue Sheep, Chiru, Tibetan Tahr, Musk Deer, Red Panda, Golden Snub-nosed Monkey, Himalayan Marmot and Black-necked Crane. I enjoyed not only the facts about each animal but the glossary that will help readers unfamiliar with some of the words. I plan on checking out many of the resources listed at the back at the book to learn more about these animals I had never heard of before. Although I received an e-version of this book from the author I plan on adding this to my home library for my grandkids to enjoy. There is so much to be learned from this book.