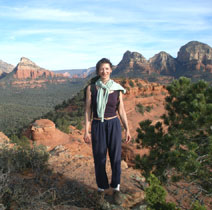 Naomi in the red rocks of Sedona
About Naomi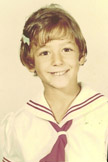 I've had a deep interest in spiritual traditions and ways of peace since early childhood. In 2nd grade, I visited numerous churches and temples to find one that suited me. In the end, I decided to make up my own. I would rise early Sunday mornings, set the table for the family brunch as an act of service, and then go on a nature walk around the block, admiring the tree, flowers and plants, ants, spiders, and all.
Over the years, I've explored and attempted to incorporate various spiritual teachings in my life. In 1994, after a powerful nighttime dream, I became enamored with Tibetan culture and wisdom. The Tibetan ways of peace and their unique culture became dear to my hear and soon I began work on my first children's book, Tibetan Tales for Little Buddhas. I've now devoted over fifteen years to writing, painting, and teaching about Tibet and its mystical wisdom.
Nature is another big theme in my life. From girl scouts, to backpacking in the Sierras, to living in places of natural beauty, I've been nourished by nature my whole life. My first big painting series was of the Temperate Rain Forest which I called Art for the Ancients. I hope to return to nature themes in some of my creative projects in the near future.
For more on Naomi, see Published Essays below
Education
Naomi received her Bachelor's of Fine Arts Degree from the Northwest College of Art in 1998 to add to her Associates Degree in Visual Communication (1996). She received the Freeman Continuing Scholarship in 1995.
Naomi studied the art of writing throughout her life by attending classes, workshops, and writing groups. She is a long-time member of the Society for Children's Book Writers and Illustrators.
Exhibitions and Publications
Naomi has exhibited her work in galleries and other venues in the United States and England. Notable solo exhibitions include Peace Wind Gallery in Santa Fe, and The Playhouse Gallery, Bainbridge Island, Washington.
Along with her books, her artwork, essays, and stories have appeared in various publications, including Bodhi Magazine, Santa Fe Sun Monthly, SCBWI Bulletin, and Real Kids Magazine.
About Creating Books
Creating children's books is a perfect art form for me. I love the interplay between words and images. And I love the opportunity to offer ideas of peaceful wisdom and joy to children and adults. When I put it all together into a meaningful book, it's very satisfying.
I work on several paintings at a time. In this way, I allow the paintings to inform each other. Whenever possible, I work on the paintings in the midst of polishing the stories. At those times, I become immersed in the world of the book on numerous levels. To achieve another level of immersion, I keep my studio full of books and images of places and people from Tibet. And I play Tibetan chants while I work. In this way, I hope the essence of Tibet finds its way into my work.
For each painting, I transferred rough sketches onto the canvas board using tracing paper or a projector. Then I painted a complimentary color scheme to map out the major areas of color and contrast. I used a lot of complimentary color combinations to create vibrancy and lighting. Many times the complimentary color may no longer be seen in the finished painting, but it's there underneath impacting the visible colors.
Working with acrylics allows me to experiment as I paint, to let the painting lead me. I also use the wet-on-wet approach, mixing many colors on the canvas to invite interesting mark-making and a gestural look.
To keep the book interesting to readers, I vary the lighting, perspective, and composition from painting to painting and carefully plan the book's layout.
About Writing Tibetan Tales
The inspiration for Tibetan-themed children's books began in 1994 when I first became a student of Lama Surya Das, a teacher of Tibetan culture and wisdom.
In Tibet, wisdom tales have been passed down for centuries through the oral tradition from teacher to student. One of Lama Surya Das' teachers suggested that he write these tales in English so that they may be of benefit to students in the West. This resulted in a wonderful book of Tibetan tales for adults, called Snow Lion's Turquoise Mane.
In an early conversation with Lama Surya Das, I told him I wanted to create children's books. It was then that he passed the baton of the teaching tales to me. "Why don't you turn some of the tales from my book into tales for children?" he asked. "Then the stories could be of benefit to children as well as adults."
His suggestion fit perfectly with my personal motivation to be of benefit. I had become enamored with the Tibetan people and I wanted to do what I could to help preserve and share what was left of their sweet and peaceful ways.
When working on the tales for each book, I have to modify the adult versions to make them understandable to children in our culture. As I do these modifications, I give time to allow my understanding of the essence of each tale to deepend.
About the Art for the Ancients Series
The first time I walked among the trees that grow in the Pacific Northwest Rainforests, I knew I was in sacred territory. Here was a whole system of life that had been untouched for centuries. It reminded me of the great peace in leaving things as they are. I walked with respect and reverence. When I left, a part of my heart remained there in the wet ground and wild mosses.
As an artist, I paint what is sacred to me. I painted this series with the intention of providing a window into these unique, magical, and healing environments; to inspire others to live with care in how we use our resources; and to encourage us all to value these powerful places on our earth.
View Naomi's Art for the Ancients Series in the Gallery
Writing and Art Contributions
Feature Writer
Digging for Gold: Researching Awards for Your Book
Society for Children's Book Writer's and Illustrator's Bulletin
February 2011
Feature Writer and Illustrator
Snow Leopard
REAL Magazine; Spring 2011
Feature Writer and Illustrator
Tibetan Plateau
REAL Magazine; Fall 2010
Illustrator
Animal Acrostics
REAL Magazine; Winter 2010
Illustrator
I Like to…
REAL Magazine; Spring 2010
Guest Columnist
Teaching Compassion and Peace
New Mexico Kids; Spring 2006
Feature Writer
Peace from the Inside Out
Sun Monthly; September 2006
Contributing Writer
My Lifelong Experience with Yoga
Yoga for Women at Midlife and Beyond
Sunstone Press, Fall 2006
Feature Writer and Illustrator
Tashi's Gold
Bodhi Magazine; Fall 2003
Feature Writer and Illustrator
Yeshi's Luck
Bodhi Magazine; Winter 2002
Published Essays

Peace from the Inside Out
by Naomi C. Rose
What lies behind us and what lies before us are small matters compared to what lies within us.
— Ralph Waldo Emerson
I've been devoted to peace ever since I can remember. Perhaps this obsession began as I huddled under the school desk for another post –World War II bomb drill, hugging my scrawny legs. Or perhaps it began when the neighbors built a bomb shelter. The thought of crowding in a dank underground vessel while balls of fire plummeted from the sky terrified me. Fear of the enemy. Fear of violence. Fear of war. I wanted peace for the world, and I wanted to feel safe.
I set my ambitions on winning the Nobel Peace Prize. In my young heart and mind there was no greater accomplishment than contributing to peace. While I waited to win that prize, I invented the "peace gun." I nailed two small squares of wood together and glued a knob on top. I ran around "shooting" it at whomever I could, believing each time I pushed the knob that people would be kinder to one another. In Girl Scouts, my spirits soared whenever we sang "Let There Be Peace on Earth." My voice filled with emotion with the words "and let it begin with me." I would do what I could for peace.
In my teens, I handed out daisies at school and declared myself a flower child of peace. I doodled the peace symbol on homework and flashed the peace sign everywhere. Perhaps these gestures would succeed where my peace gun had failed. Donned in groovy scarves and tie-dyed dresses, I marched the streets in protest of the Vietnam War. Again my spirits soared as I sang with thousands of others "All we are saying is give peace a chance." In between songs, I pumped my fist in the air decrying the evil warmongers .
And then something happened. Turmoil from past and present traumas in my life caused me to turn my attention inward. And lo and behold, I discovered that the violence I had feared and protested outwardly was thriving inwardly. Combat and war, anger and hatred, enemies and evil were all playing out in the shadows of my soul. I went into therapy and opened the Pandora's box of my dark emotions. I punched pillows and screamed into the air, raging about those who had done me wrong.
In the midst of this "dark night of my soul," I had a spiritual awakening. My heart and mind expanded to new realities. I saw how the outer world was a reflection of my inner world. And I devoted myself to peace all over again, but this time from the inside out.
Over the next 20 years or so, I cultivated a spiritual practice and continued various forms of therapy. This work became less focused on what had happened to me and more on what was happening within me. I learned that my denied thoughts and feelings could wreak havoc. I learned that even seemingly dark aspects of myself could have valuable wisdom. I learned that embracing and honoring the unpleasant parts of myself could enhance inner peace. And I began to realize that those truths could be applied outside myself, too.
My ambition to create peace in the world surged in me again. I felt ready. But this time the ambition was rooted in love, not fear. No more hiding under desks in terror of malevolent forces or marching for peace with hatred for warmongers. No more believing in the polarities of good and evil. No more believing in enemies. It was time to shoot my peace gun at my own heart, to cultivate a compassion for all beings.
I came upon a Tibetan wisdom tale that gave me a new reference point for peace. It's a tale told in many cultures. The story is about a boy who loses his horse. Ah, bad news. The horse returns, accompanied by a new horse. Ah, good news. The new horse bucks the boy, and the boy hurts his leg. Ah, bad news. All the boys in the village are taken away to war except the boy with the hurt leg. Ah, good news for the boy.
In the Tibetan version, the boy's father remains calm through the events as he chants the Tibetan mantra of compassion: Om mani padme hum. Throughout the story, the boy has no real peace. His state of mind is tossed back and forth like the bucking horse. But the father's sense of peace is not at the whim of events. He doesn't place a value of good or bad onto occurrences. Yet he's fully engaged in life, tending to each incident with care. He helps search for the lost horse. He bandages the boy's hurt leg. All the while, he chants. His unshakable peace and compassion eventually inspire the boy and others in the story to find peace.
The father in this tale became my new model for equanimity and peace. In fact, I included the story in my first children's book, Tibetan Tales for Little Buddhas. Many adults and children have told me how this tale inspired a new way of experiencing life — a more peaceful way, a more compassionate way. Their transformations came from inner shifts, not from changes in their outer world. The wisdom from this tale continues to be my constant companion. It helped me climb out of terror after 9/11, and it guides me to respond with peace rather than fear to life's inner and outer events.
Now I write, paint and speak for peace — a global peace within each of us and in the world. My lifelong ambition to contribute to world peace is being realized little by little. All along the song I learned in Girl Scouts was true: peace begins with me. Now it's just from the inside out.